Sometimes it can be hard to visualise where a piece that you buy at auction will fit in your home. Not for Mel and his wife Harriet, who live in a stunning townhouse amidst a delicious jumble of antiques juxtaposed with modern pieces and...pieces bought at auction right here in Singapore, from yours truly no less.
Follow us on a whistle-stop tour, to see how artistic and talented Mel spots pieces at auction, what's his knack, what pieces catch his eye. See them re-imagined inside the 'living gallery' they call home, working hard and living their best (second) life possible.
"Why does a table have to be used as a table?" says Mel. Good point - I like him instantly. "Some of the best pieces I've bought at Hotlotz I use as my 'scaffolding', if you will." He's right, and more often than not the items he's bought from our auctions are props to showcase his numberous Items of Note - which by the way - are not only numerous, they're VERY diverse and even include two clutches of dinosaur eggs from a Ovi Raptor. Yup. Seriously. They are 3 million years old (!) and the centre piece in the photo below. Can you guess what he bought from us in the picture?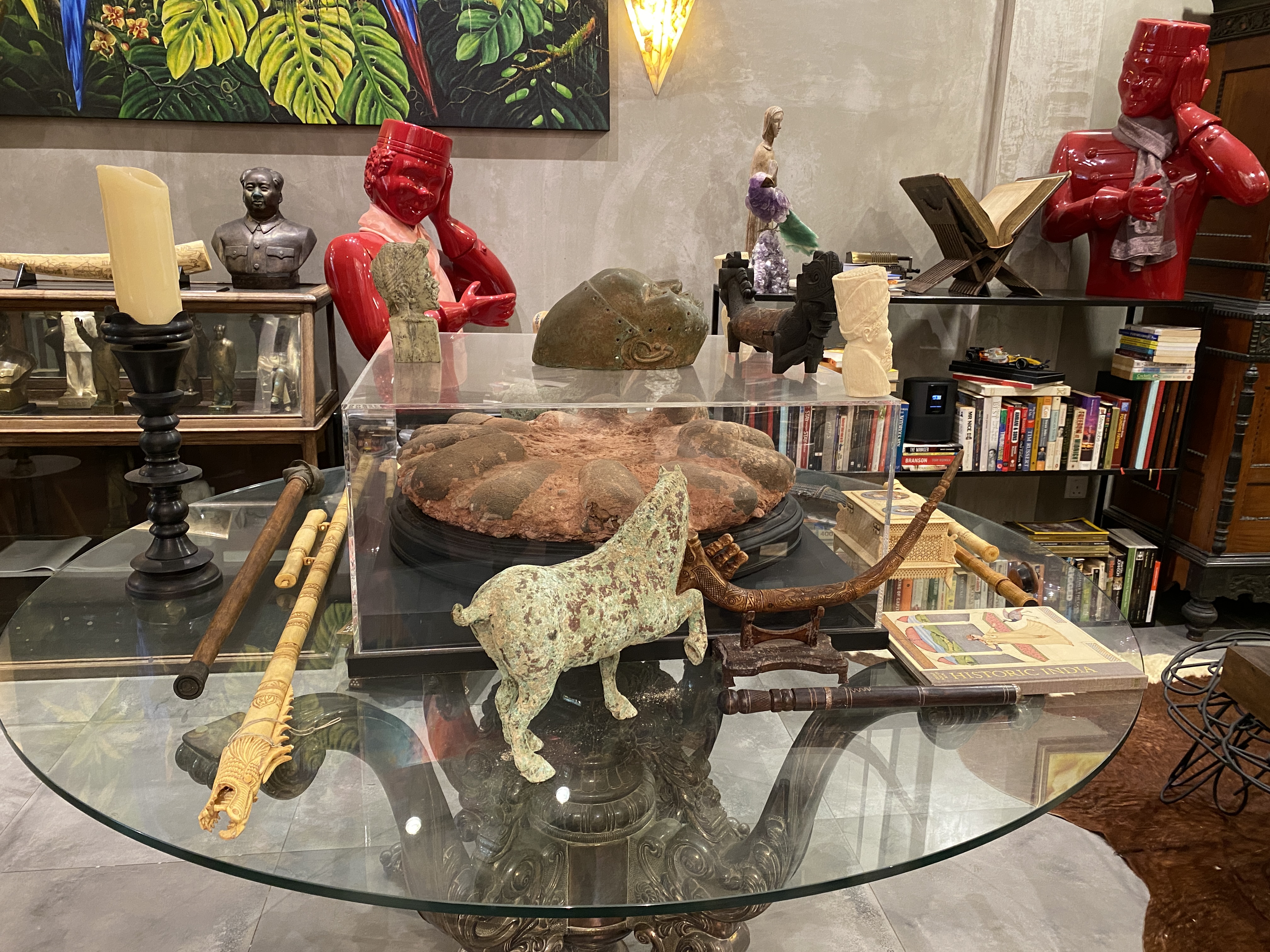 It is the beautiful glass-topped colonial table with its intricately carved rosewood legs, layered and encased in silver (there is about 6kgs worth of silver on them). "I knew where it would fit and exactly what I could display on it as soon as I saw it." That's another Mel-ism: don't buy by randomly and hope it will do 'somewhere'. Know exactly what space you are buying for. It helps you have focus.
There is a quiet majesty to the silver-clad former dining table. The legs could be polished up to a shine, but they are so much more charming with their patina, which reflects time passing, elegantly echoed by the age-old eggs that sit enthroned as the centrepiece. Even if you don't think of it in those terms when you see it, it works on a subconsious level.
As most collectors will tell you, collecting is not always about buying the most expensive item. It's about how they're put together. The colourful canvas you can glipse a corner of, above, is by an unknown Balinese artist. It is visually very important though, as a linking piece. This is how it works hard for Mel's home: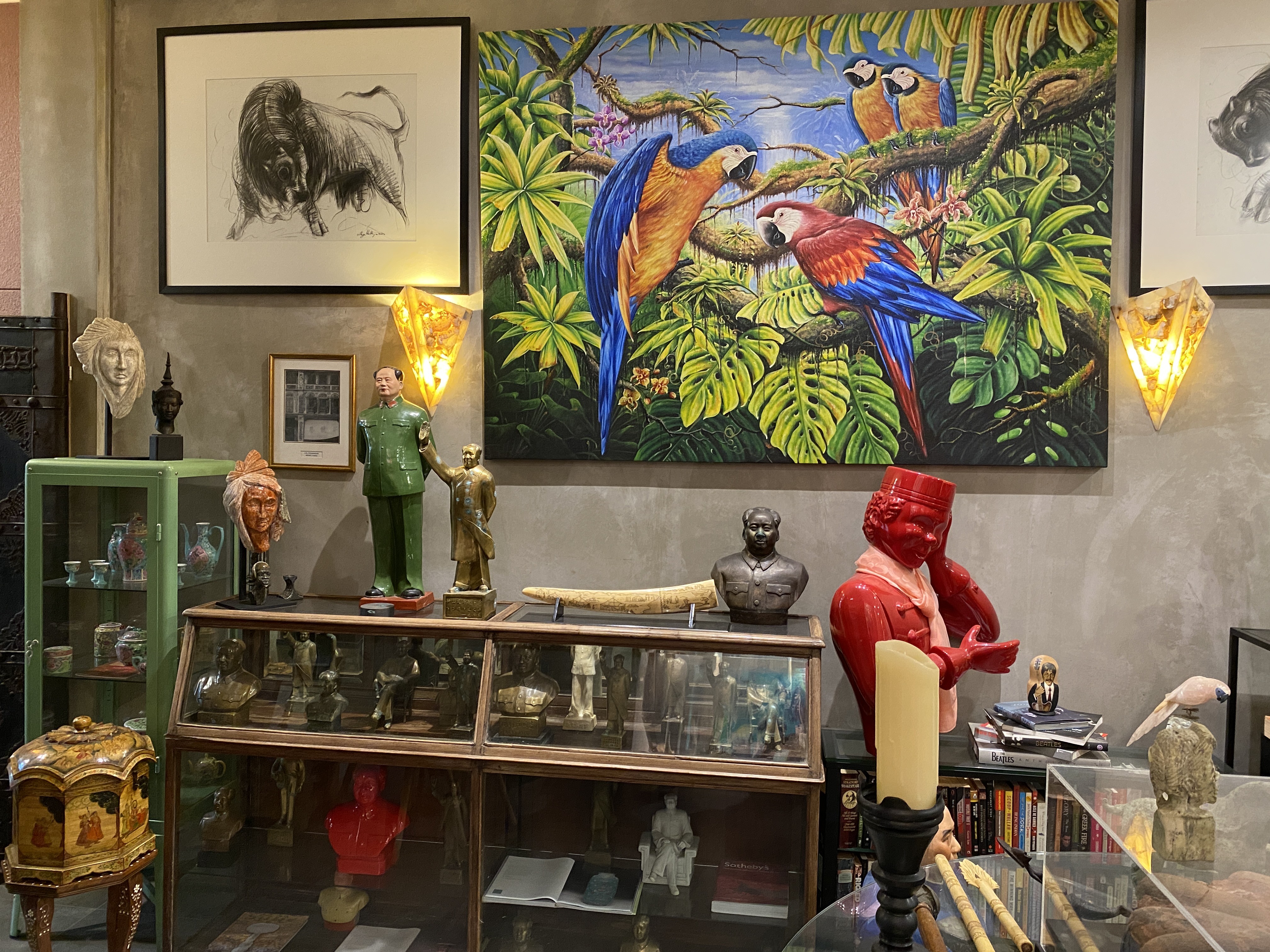 It links the green section with the red transitional section of the house. These VERY cool red busts are from the 1960s and were the original Louis Vuitton manneguins in their Paris store. Wondering where Hotlotz fits in? See the pretty Peranakan heritage china stored in a surprisingly modern green unit? (YES, FROM US!) Isn't its tone just the perfect match with the Chairman's pea green coat? A clever purchase from one of our bygone monthly Home & Decor auctions - and a very untraditional way to display this beautiful china, so much so that it makes it sing.
Here's a side view. The Macaws make all this possible and unify the red and green parts harmoniously. Things may appear random - all part of the master plan - but not all is as it seems.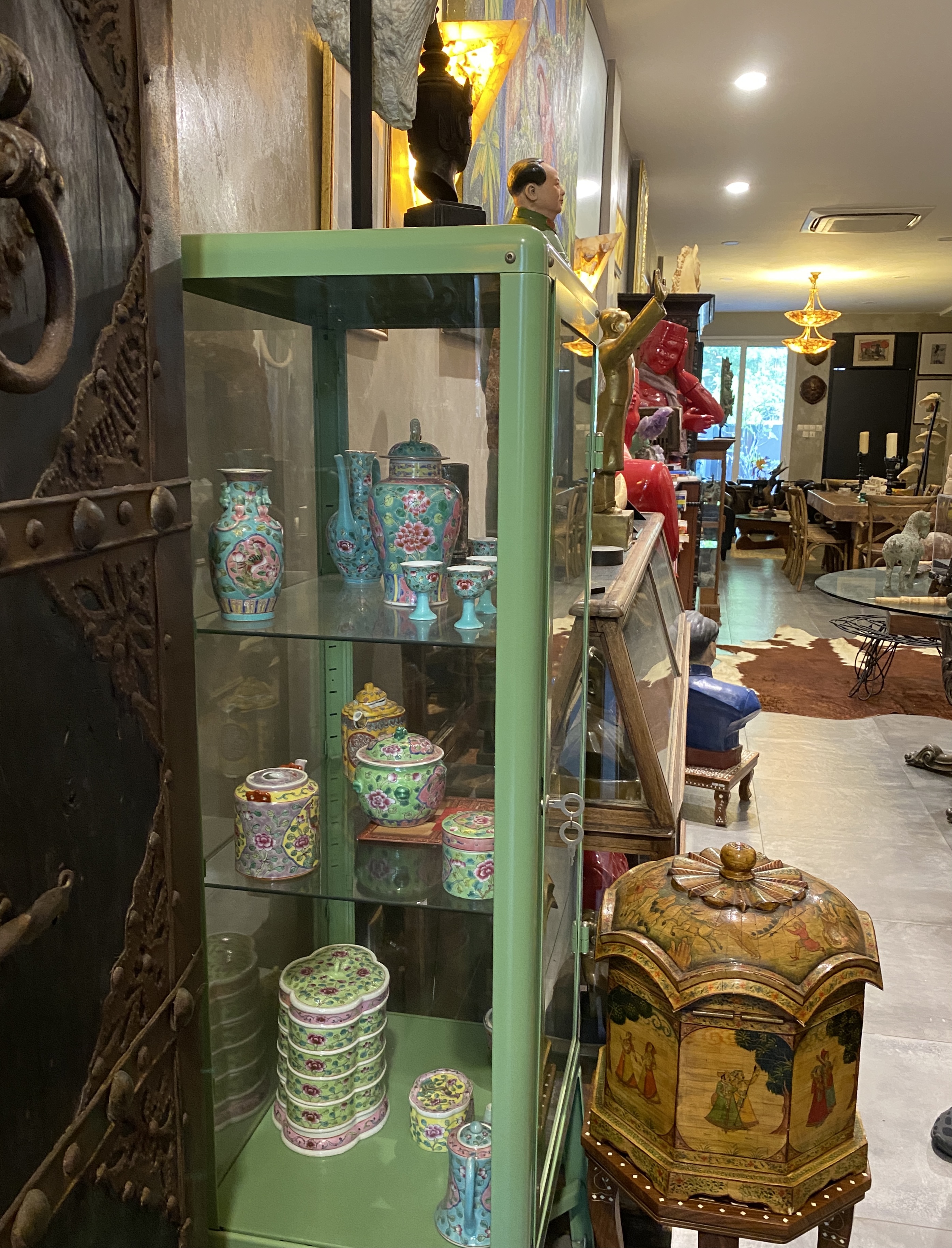 Here are a few more things Mel has snapped up from Hotlotz, below: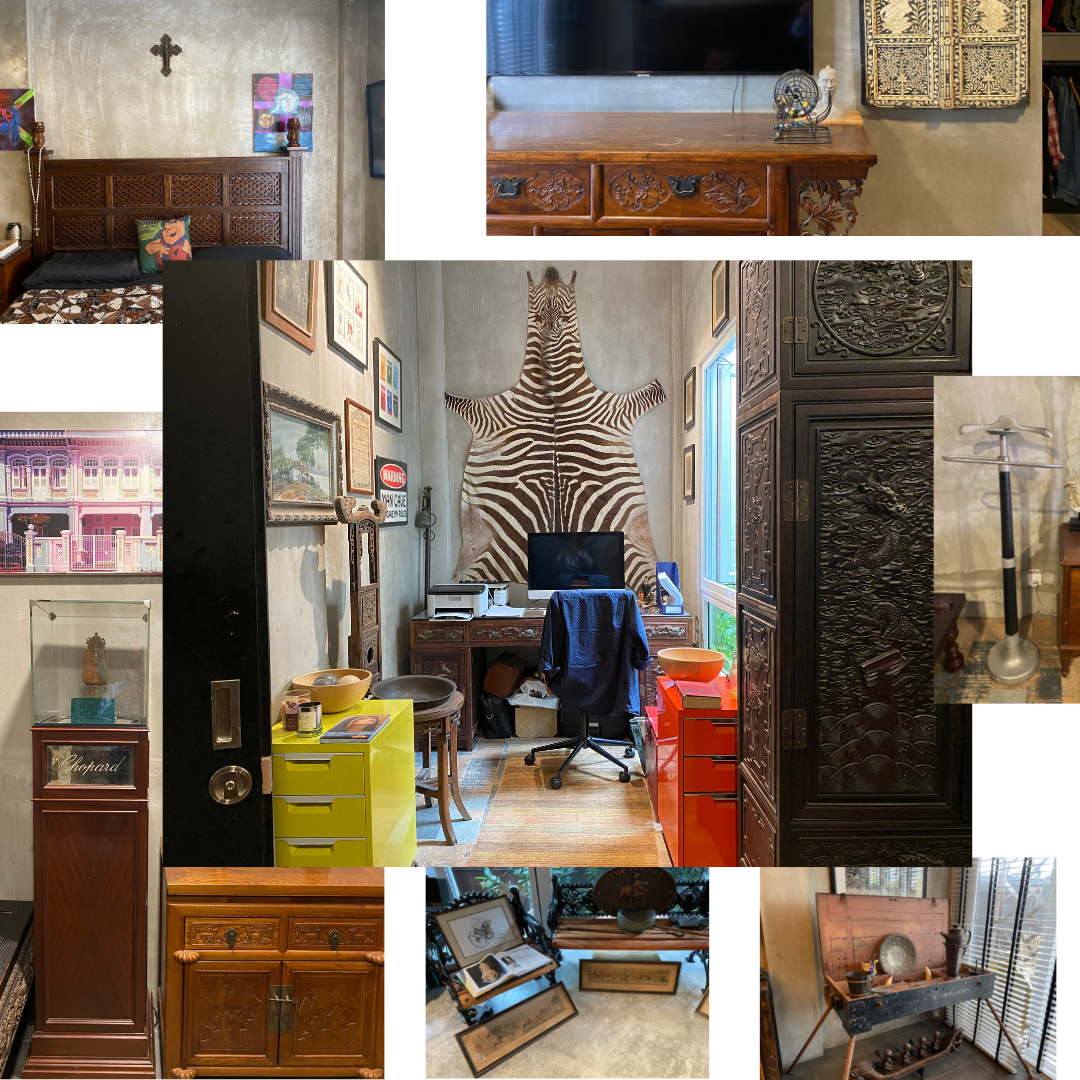 Clockwise from top left: the king-sized bed frame; the pretty carved Chinese sideboard under the TV; no, not the zebra rug - conservationists will be pleased - instead it's the metal red and yellow filing cabinets (don't they look great?); the Chopard display cabinet, a very smart wood and metal suit-tidy, a portable chest to carry guns on the battlefield (bottom right) now coverted to a bar...all these items were ferreted out at Hotlotz. The English hunting scene prints are from us too - bottom middle - now positioned in a room full of colonial furniture that they enhance perfectly.
**The really good news is that Mel and Harriet are selling some of their own items (not things they have bought from us, but pieces from their personal collection - photos below) in July's Home & Decor sale. Browse the full catalogue here for more details on all their items in the sale, and more.